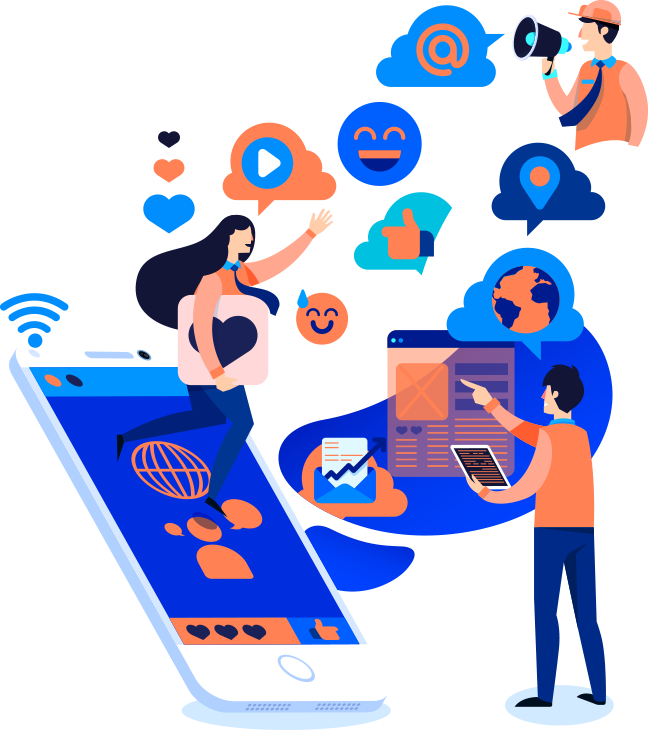 SMM services also known as social media marketing services. If you realize the importance of SMM services, ClickPro Media can provide you the best advice and solutions. SMM services is one of the marketing strategies you cannot be ignore todays. As you know, over a million or more are playing around on the social media platform like Facebook, Instagram, YouTube, Twitter and more. This few famous platform are ready to be there for you as over a million of traffic you might want to get them reach your business and make your business get found at ease. More and more business are including SMM services as one of their marketing tools.
SMM services is referring to a process of gaining awareness and quality traffic through social media platforms. All social media platforms enable to let your business to build up your online presence by doing interactive and communication with the targeted traffic. Thus, to build up a long term relationship with them through these platform. Living in a fast moving world, nowadays many people does not prefer to check out the retail shop and instead they prefer online shopping. Almost every business are having a Facebook page, SMM services help your business to flourish and nurture when you creating an account on the social media platform to increase traffic.
SMM services is effective because users always share contents, opinion, views through social media. Users created a culture that encourage interactive and build community through social media. Over billion of people use social media platform to do interactive. So when a user love your products or services, they will share it or recommend it to their friends. When many users do so, it can convert into sales conversion and profits.
Over millions of active users interact within social media platforms. Assume that 1% out of the million users is your business conversion rate. You can imagine how big the marketing you are investing. Growing or expanding your business is not an issues anymore. SMM services is always the economical expenditure to invest but high return on gaining awareness and exposure for your online business. There are over billion of people do searching every day, over million is coming from social media platform. In order to boost or drive traffic to your company website, social media is the fastest and easiest way to redirecting the traffic to your website.
Increase your online presence, people will start to know your current brand existing, they will share and comment on the products and services that you provided. They will introduce your brand, products and services to the people who surrounding them. Using social media platform to show your business current status is important. It helps to increase the brand online presence, improve the brand loyalty, in other meaning it is getting more opportunities to convert. As much as the people you capture, interactive getting more, higher conversion rates can be seen.
Too much information to digest here? Why not talk to us now and let us consult you. ClickPro Media professional skillset will definitely impress you.