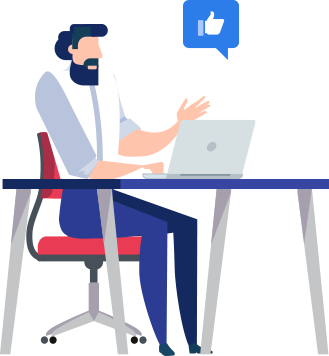 ClickPro Media Sdn Bhd is an award winning internet marketing solutions team that specialize in web development and internet marketing with guaranteed results. As a result driven company, we embrace difficult problems and creative challenges. We help your business connects with your consumer and increase sales through the latest and advanced online marketing strategy. We help our clients discover new business opportunities to drive growth, build their brand value in the market. By building long last relationship with each of our clients, we ensure our internet marketing solutions is built with the sole focus on solving the problems that your business facing.
We are always available to explain and guide our clients through understanding how is their online marketing performing and what we can do for them as an additional value. ClickPro Media are committed to use the best practices and being on top of the latest innovation in internet marketing. Internet marketing strategies are being developed everyday in order to find better ways to reach web users with the right message. We empower your business to reach more customers and growth rapidly. Our mission is to help our clients business achieve growth through our internet marketing solutions. We seek to deliver a more remarkable buyer experience.
ClickPro Media not only focus on creating internet marketing to make your business stand out, we also create assets that bring conversion to your business. We charge clients based on the true value we provide instead of charging them based on their business or office size. We just accept the challenge given by clients without overthinking. To make our clients happy and satisfy, we deliver as much awesomeness results as possible! With our determination and passion, our team always adapting to change and growing even faster than ever.