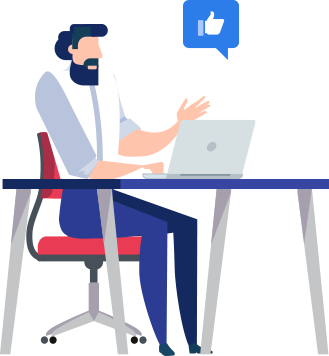 ClickPro Media Sdn Bhd is an award winning internet marketing solutions team in South East Asia that specialize in web development and internet marketing with guaranteed results. We believe our excellent skillsets, creativity, innovation and invention can bring our clients online business to the top in the market. Our team constantly evaluates the best way and latest method of internet marketing to implement in your business. We make your business one step closer to success in internet marketing. We simplifying the relationship between your business and search engine in order to get great return from it.
We treat our clients as our business partner, we make sure what you invested in us will get great return by our best effort. We leverage our deep understanding and expertise of our client's business and requirements to create a customize solution that fit for their business. ClickPro Media believe in treating our clients with respect and faith to lead trust can be earned within the relationship. We are always available to explain and guide our clients through understanding how is their online marketing performing and what we can do for them as an additional value. We just accept the challenge given by clients without overthinking. To make our clients happy and satisfy, we deliver as much awesomeness results as possible!
ClickPro Media Sdn Bhd integrate with honesty, integrity, accountability, creditability and business ethnics into our business. We look forward to be the best in providing consistent growth, success, innovation and creative internet marketing solutions company that take into account our client's requirements and challenges. We are committed to earn our client's trust through outstanding execution and uncompromising dedication to their business. With our determination and passion, our team always adapting to change and growing even faster than ever.